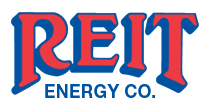 Reit Energy Co. Serving Bucks and Montgomery County with outstanding personal service for over 70 years.
Delivery of top-quality heating oil, diesel fuel, and propane
Oil and natural gas heating equipment sales, service, and installation
Air conditioning sales, service and installation
Price Protection Plans
Annual service agreements
24-hour emergency service
Visit www.reitfuel.com or www.reitenergypa.com for further information.